AVAILABLE OR NOT ?
The taxi is available when the white taxi sign on the top of the car is lit up. Not available : When the taxi sign is not lit up.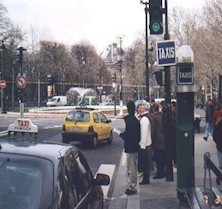 TAXI STAND
At a taxi stand, clients usually take the first cab on the top of the waiting line,but you have the full right to chose any other cab if you like to.
FOURTH PASSENGER
Relating to a previous rule, some taxi drivers still refusing to charge more than 3 passengers. They are not allowed to do it since October 2001.
MINIMUM FARE
The meter start at 2,20 euros. the minimum fare is 6,00 euros.
APPROACH PRICE
When you call a cab ,
the driver charges you for the journey he does to come to pick you up.